NENAD VILOVIC - PRIZMA (LP) Limited Edition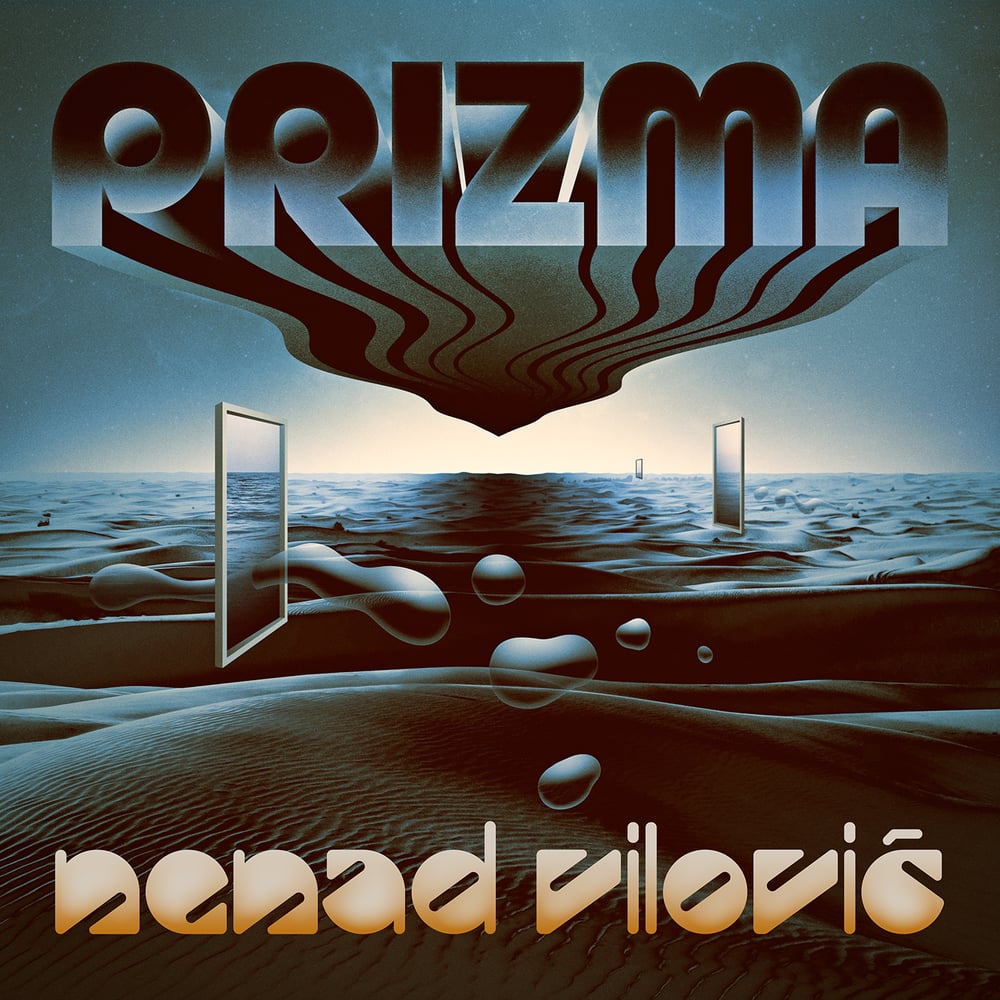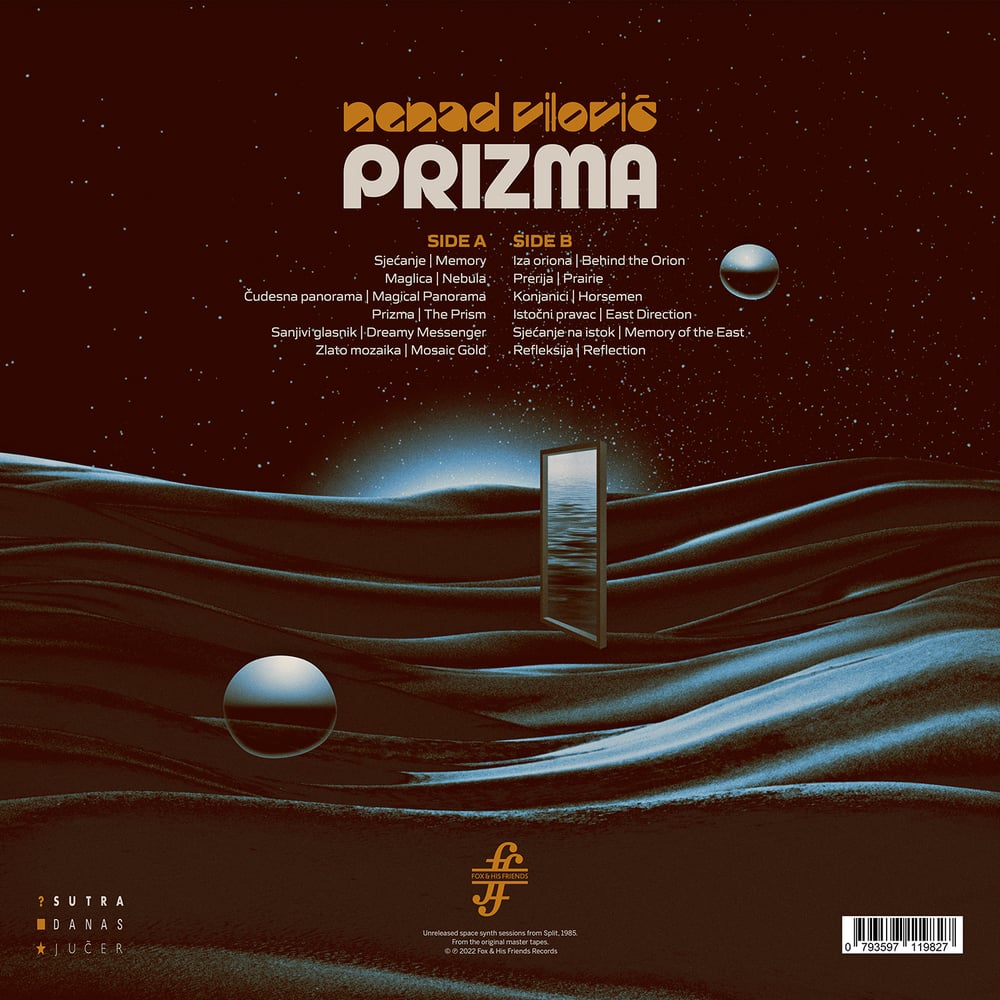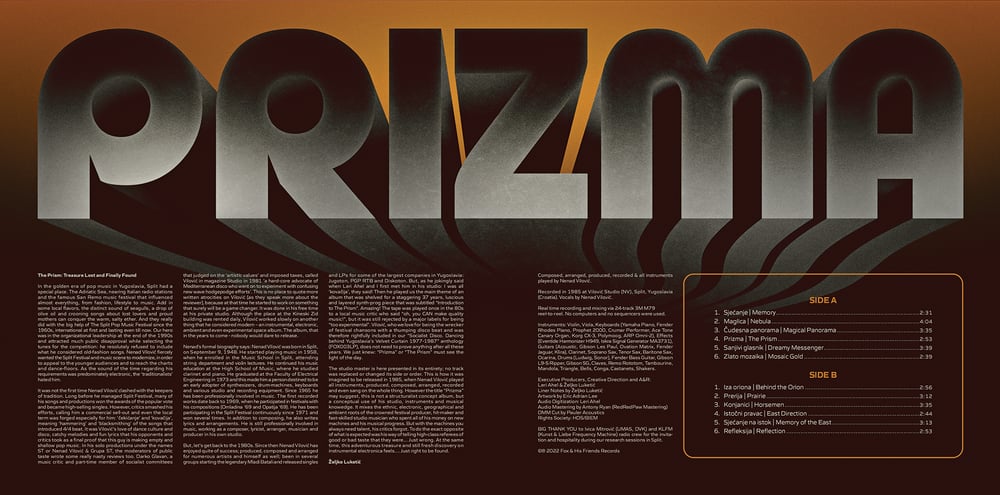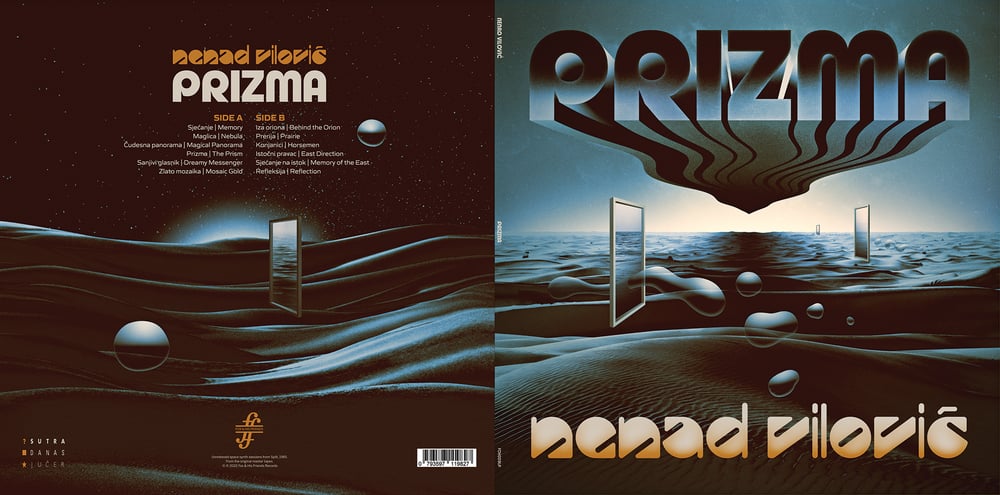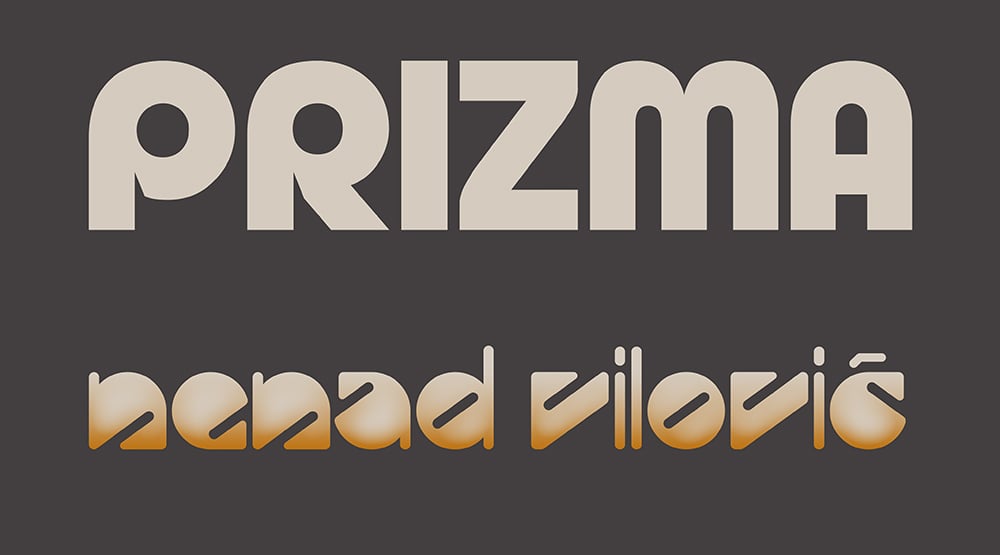 ★ NENAD VILOVIĆ - PRIZMA ★
Unreleased space synth sessions from Split, Yugoslavia, 1985.
★ From the original master tapes.
★ Vinyl Gatefold LP
★ Liner Notes
★ Limited Edition
★ Exclusive Artwork by Eric Adrian Lee
★ Eco-Friendly Reusable Shrink Wrap
Allow longer arrival dates due to a EU crisis and postal rules which may be different from country to country. All shipments include tracking number.
★ In the golden era of pop music in Yugoslavia, Split had a special place. The Adriatic Sea, nearing Italian radio stations and the famous San Remo music festival that influenced almost everything, from fashion, lifestyle to music. It's local counterpart was The Split Pop Music Festival since the 1960s, international at first and lasting even till now. Our hero was in the organizational leadership at the end of the 1990s and attracted much public disapproval while selecting the tunes for the competition: he resolutely refused to include what he considered old-fashion songs. Nenad Vilović fiercely wanted the Split Festival and music scene to modernize, in order to appeal to the younger audiences and to reach the charts and dance-floors. As the sound of the time regarding his requirements was predominately electronic, the 'traditionalists' hated him
★ It was not the first time Nenad Vilović (often under the names ST or Nenad Vilović & Grupa ST) clashed with the keepers of tradition. Long before he managed Split Festival, many of his songs and productions won the awards of the popular vote and became high-selling singles. However, critics smashed his efforts, calling him a commercial sell-out and even the local term was forged especially for him: 'čekićanje' and 'kovačija', meaning 'hammering' and 'blacksmithing' of the songs that introduced 4/4 beat. It was Vilović's love of dance culture and disco, catchy melodies and fun lyrics that his opponents and critics took as a final proof that this guy is making empty and shallow pop music.
★ Nenad Vilović has enjoyed quite of success; produced, composed and arranged for numerous artists and himself as well; been in several groups starting the legendary Mladi Batali and released singles and LPs for some of the largest companies in Yugoslavia: Jugoton, PGP RTB and Diskoton. But, as he jokingly said when we first met him in his studio: I was all 'kovačija', they said! Then he played us the main theme of an album that was shelved for a staggering 37 years, luscious and layered synth-prog piece called "Introduction to The Prism". Amazing! The tape was played once in the 80s to a local music critic who said "oh, you CAN make quality music!", but it was still rejected by a major labels for being "too experimental".
★ The studio master is here presented in its entirety; no track was replaced or changed its side or order. This is how it was imagined to be released in 1985, when Nenad Vilović played all instruments, produced, composed, arranged, recorded and even sang on the whole thing. However the title "Prizma" may suggest, this is not a structuralist concept album, but a conceptual use of his studio, instruments and musical knowledge. It mixes the ethnic, electronic, geographical and ambient roots of the crowned festival producer, hit-maker and fast-skilled studio musician who spent all of his money on new machines and his musical progress.
★ Composed, arranged, produced, recorded & all instruments played by Nenad Vilović. Recorded in 1985 at Vilović Studio (NV), Split, Yugoslavia (Croatia). Vocals by Nenad Vilović.
★ Real time recording and mixing via 24-track 3M M79 reel-to-reel. No computers and no sequencers were used. ★ Instruments: Violin, Viola, Keyboards (Yamaha Piano, Fender Rhodes Piano, Prophet 2000, Crumar Performer, Ace Tone Canary Organ, Korg CX-3, Polymoog, ARP Omni-2), Effects (Eventide Harmonizer H949, Iskra Signal Generator MA3731), Guitars (Acoustic, Les Paul Gibson, Ovation Matrix, Fender Jaguar, Klira), Clarinet, Soprano Sax, Tenor Sax, Baritone Sax, Ocarina, Drums (Ludwig, Sonor), Fender Bass Guitar, Gibson L9-S Ripper, Gibson SG, Claves, Remo Rototom, Tambourine, Mandola, Triangle, Bells, Conga, Castanets, Shakers.
★ Executive Producers, Creative Direction and A&R: Leri Ahel & Željko Luketić Liner Notes by Željko Luketić Artwork by Eric Adrian Lee Audio Mastering by Antony Ryan (RedRedPaw Mastering) DMM Cut by Pauler Acoustics Rights Society: HDS/BIEM
THE TRACKS:
Nenad Vilović | Sjećanje | Memory
Nenad Vilović | Maglica | Nebula
Nenad Vilović | Čudesna panorama | Magical Panorama
Nenad Vilović | Prizma | The Prism
Nenad Vilović | Sanjivi glasnik | Dreamy Messenger
Nenad Vilović | Zlato mozaika | Mosaic Gold
Nenad Vilović | Iza Oriona | Behind the Orion
Nenad Vilović | Prerija | Prairie
Nenad Vilović | Konjanici | Horsemen
Nenad Vilović | Istočni pravac | East Direction
Nenad Vilović | Sjećanje na istok | Memory of the East
Nenad Vilović | Refleksija | Reflection
©℗ 2022 Fox & His Friends