NEP - POP NOT POP (SONGS FOR NEW EUROPE 1985-1989) LP + GRAPHIC CARD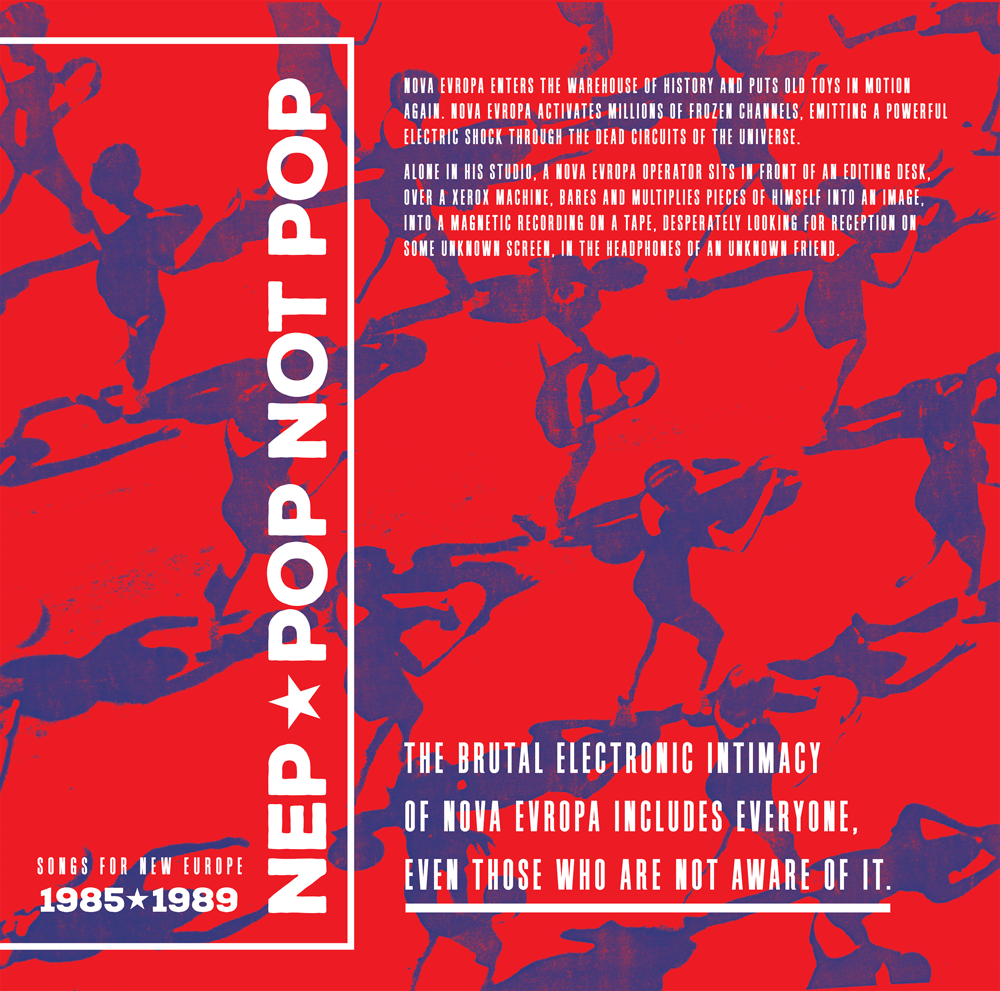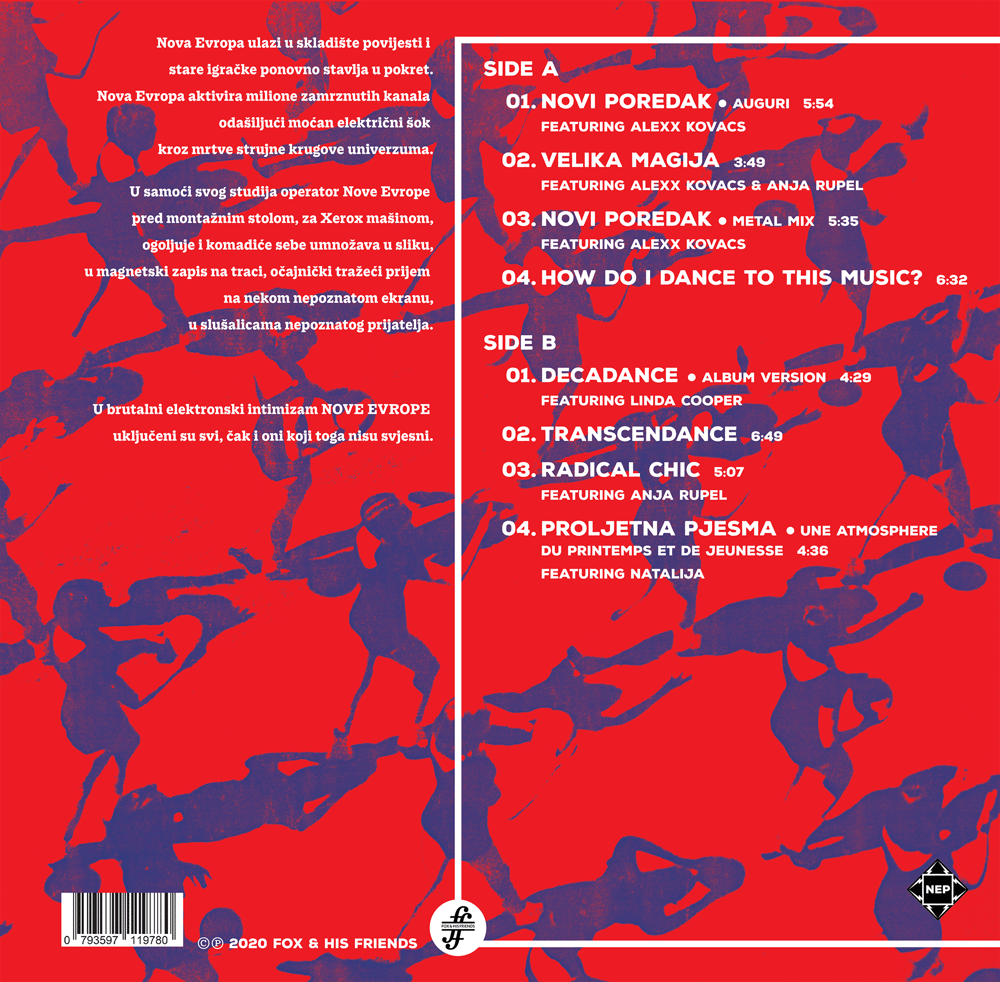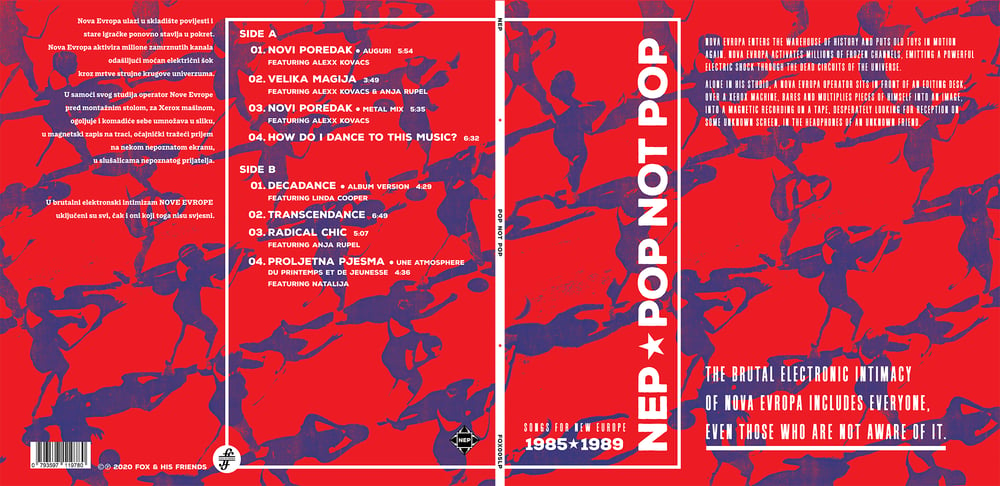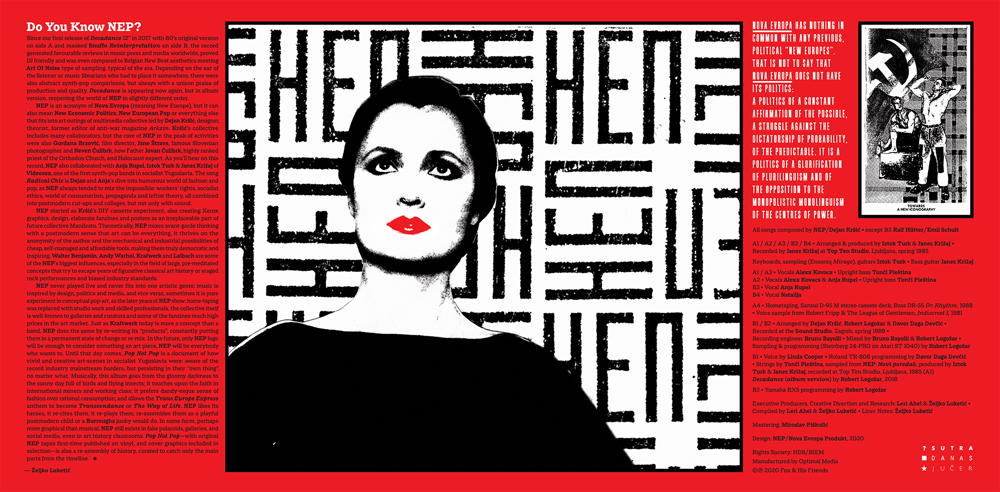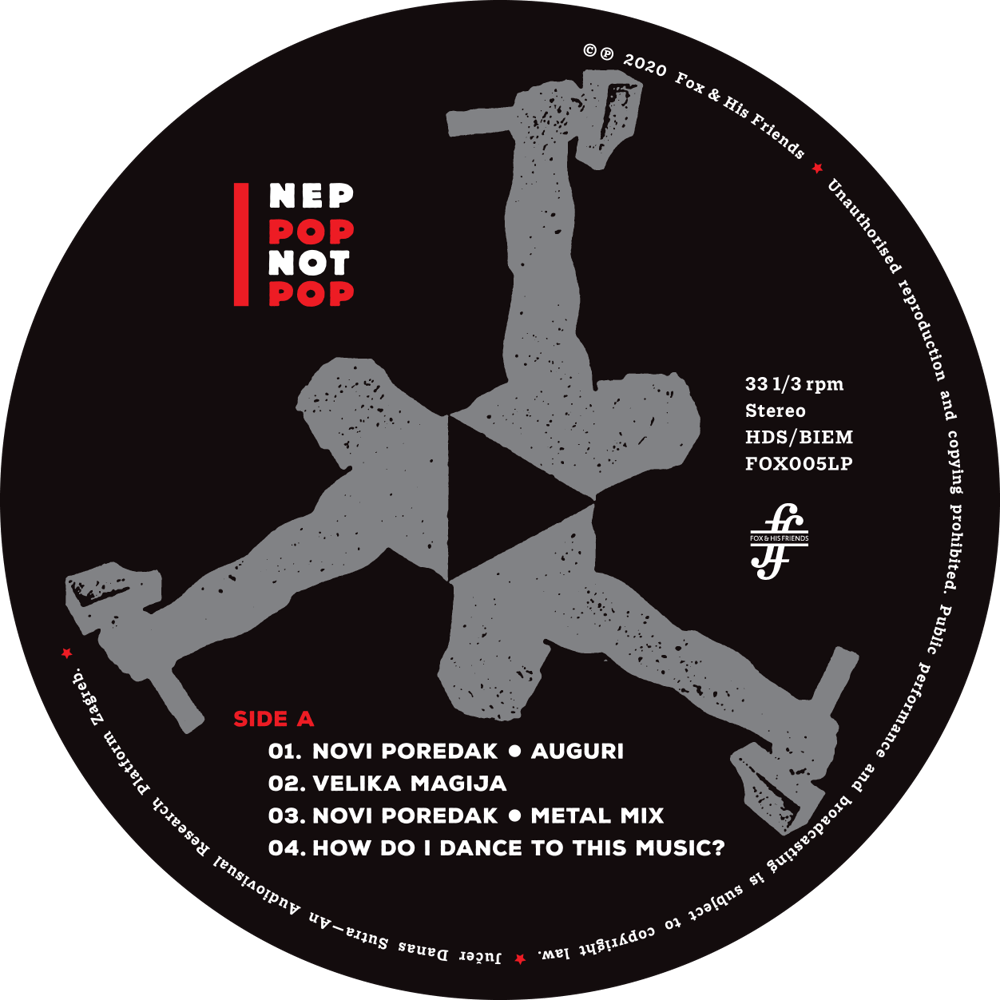 NEP - POP NOT POP
(SONGS FOR NEW EUROPE 1985-1989)

Limited edition, gatefold LP, extensive liner notes and bonus original graphic card by NEP on all BIG CARTEL orders!
Please note that this is PRE-ORDER. Estimated release date is November 15th 2020. All pre-orders will be shipped then. Allow longer arrival dates due to a Covid crisis and postal rules which may be different from country to country.
NEP was a loose multimedia collective formed in 1982 Zagreb, ex-Yugoslavia. The founder Dejan Krsic collaborated with various artists in a quest of re-thinking the stale concepts of art history, position of the author and the barriers between pop and elitist high culture. Heavily influenced by Walter Benjamin and Andy Warhol in theory and Brian Eno and Kraftwerk in music, Krsic created NEP as an umbrella term (meaning Nova Evropa or New Europe) of diverse rule-breaking activities, covering graphic design, music, photography, video, news-media and theoretical work.
Musically NEP focused on experiments in ambient and tape-music, self-released and hard to find compilation tapes like "The Cassette Played Poptones" (1988). Deeply immersed in pop-culture, politics and art theory Krsic's search for perfect pop music with cutting critical edge peaked in 1989, the year 'Decadance' track was conceived in studio. Fox & His Friends published the single in 2017 with Snuffo Remix on B-side. It received rave reviews in music press like MixMag and DJ Mag and it is still played on dance-floors around the world. But the story around the NEP is musically (as well as artistically) much wider: for the first time Fox & His Friends team compiles best cuts from unreleased and rare NEP tapes, covering the period from 1985 to 1989 on POP NOT POP abum .
Dejan Krsic is now famous graphic designer and art historian in Croatia. Other collaborators include Laibach and Borghesia photographer Jane Stravs , artist and TV director Gordana Brzovic, Jovan Culibrk , now Bishop at The Serbian Orthodox Church and Anja Rupel , singer of cult Yugoslavian synth-pop group Videosex as well as the other members of Videosex, Iztok Turk and Janez Krizaj who produced some of the tracks. Other collaborators were talented producers Robert Logozar and Davor Daga Devcic , singers Linda Cooper, Natalija, Alexx Kovacs ... The list of collaborations is long.
Some of the memorable moments on POP NOT POP album are early demo version of Decadance aka 'How Do I Dance To This Music?' with blue movies samples and drum machine experiments like early Cabaret Voltaire , then Krsic's reinterpretation of legendary Trans Europe Express anthem as 'Transcendance', or 'Radical Chic', where Dejan himself and Anja Rupel from Videosex make lovely couple of dandy-esque fashionistas, singing chart-friendly radio synthpop tune that contrasts the A-side (the 'NOT POP' side) - full of experiments, dark wave and industrial nods to Test Department and Cabs . B-side is 'THE POP' side that will surprise most of the NEP followers from their early experimental cassette days. Sunny, danceable, joyfull pop that reveals the many faces of NEP.
As Kraftwerk today is more of a concept than a band, NEP does the same by re-writing its products (musical, graphical, theoretical, activist) and constantly puts them in permanent state of change or re-mix. In the future, only NEP logo will be enough to consider something an art piece, and NEP will be everybody who wants to, as their Art Manifest claims. Until that day comes, 'POP NOT POP' is a document of how the vivid and creative were art-scenes in socialist Yugoslavia. Some of the graphic work, cut-ups from theory and Manifesto are also included on this LP, designed by Dejan Krsic aka NEP himself. This release is made from the original master tapes and published for the first time on vinyl.
----
THE TRACKS:
a1 NOVI POREDAK (AUGURI) feat. ALEXX KOVACS
a2 VELIKA MAGIJA feat. ALEXX KOVACS & ANJA RUPEL
a3 NOVI POREDAK (METAL MIX) feat. ALEXX KOVACS
a4 HOW DO I DANCE TO THIS MUSIC?
b1 DECADANCE (ALBUM VERSION) feat. LINDA COOPER
b2 TRANSCENDANCE
b3 RADICAL CHIC feat. ANJA RUPEL
b4 PROLJETNA PJESMA feat. NATALIJA
---
Executive Producers, Creative Direction and Research: Leri Ahel & Željko Luketić Compiled by Leri Ahel & Željko Luketić Liner Notes: Željko Luketić Design: Dejan Kršić Mastering: Miroslav Piškulić Rights Society: HDS/BIEM ©℗ 2020 Fox & His Friends
If there are other items you wish to receive right away please place two separate orders, one for the PRE-ORDER item and one for the others.