ALFI KABILJO - SEX, CRIME & POLITICS Cinematic Disco, Jazz & Electronica from Yugoslavia 1974-84 LP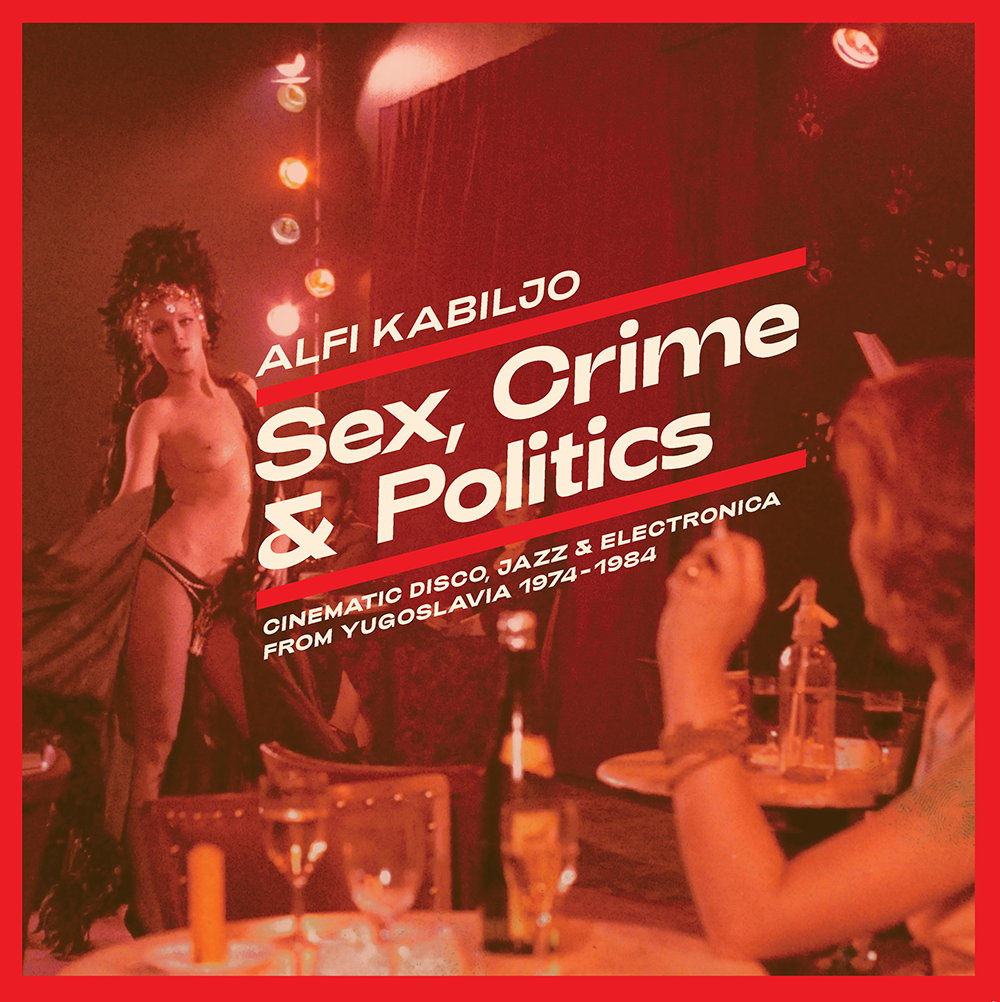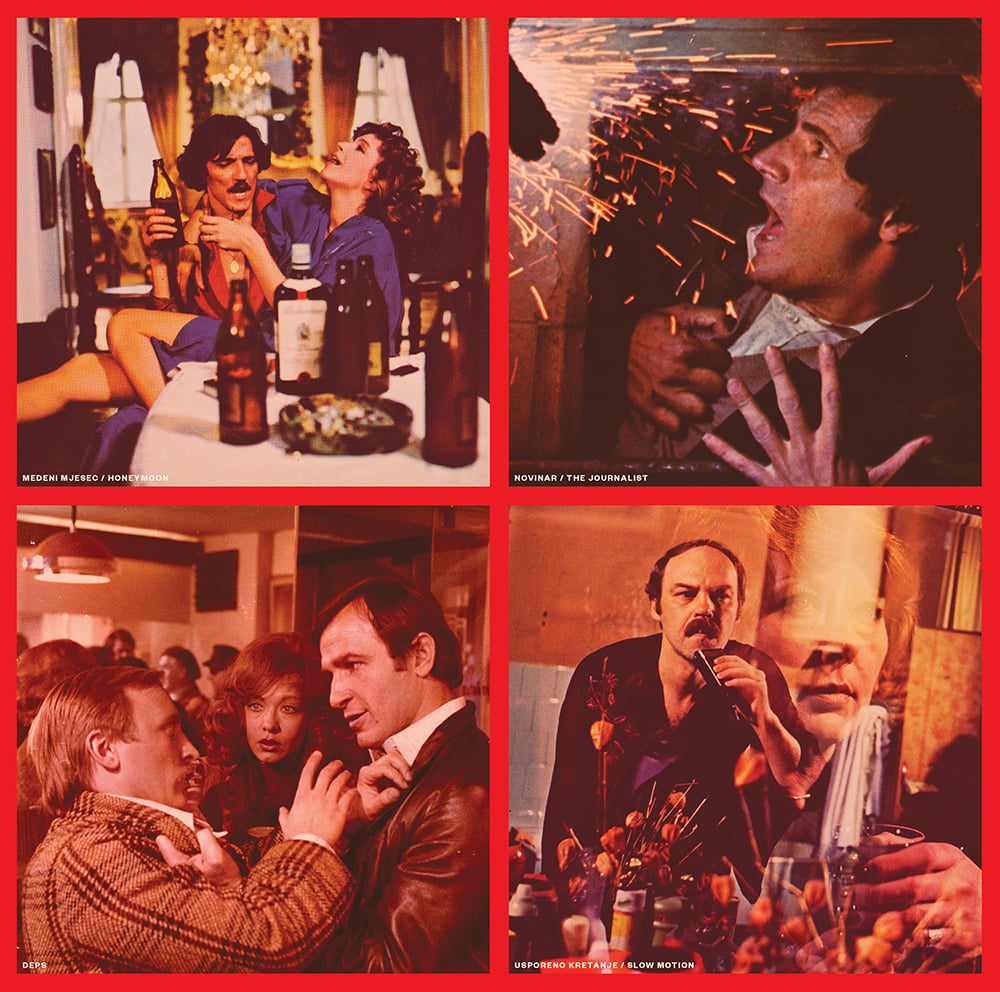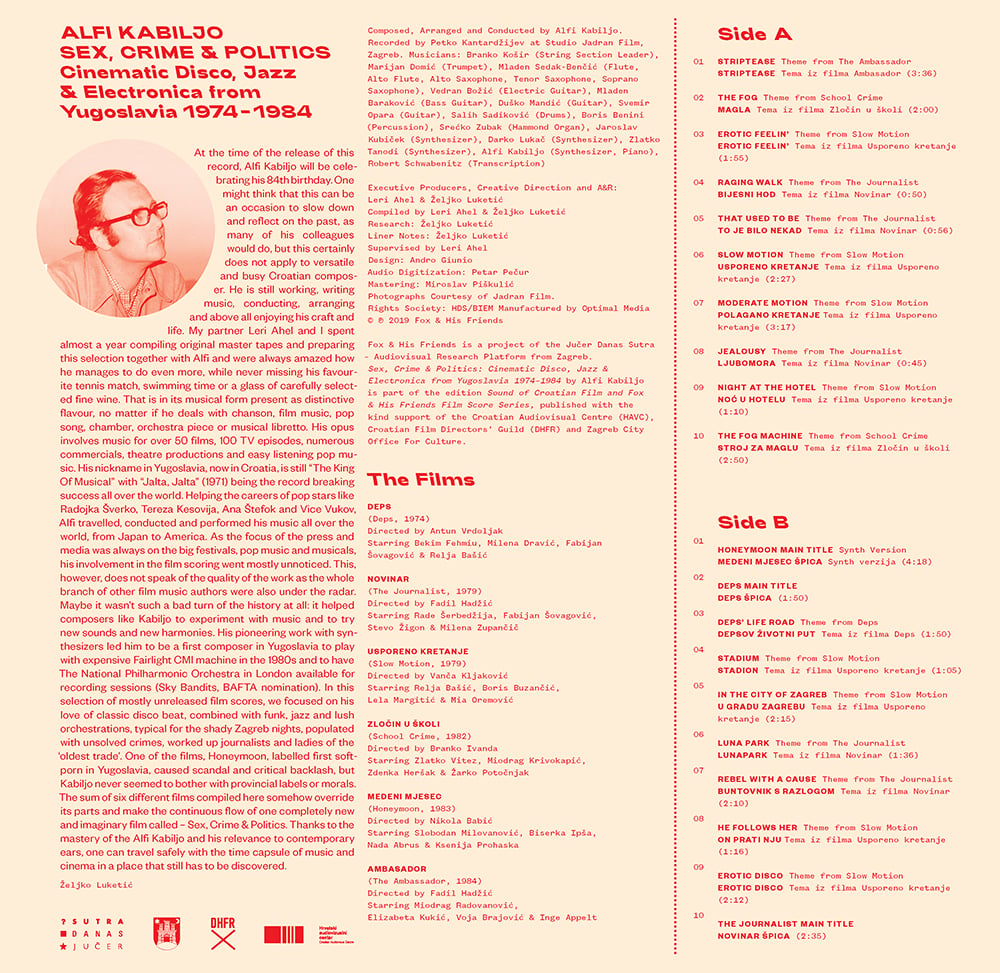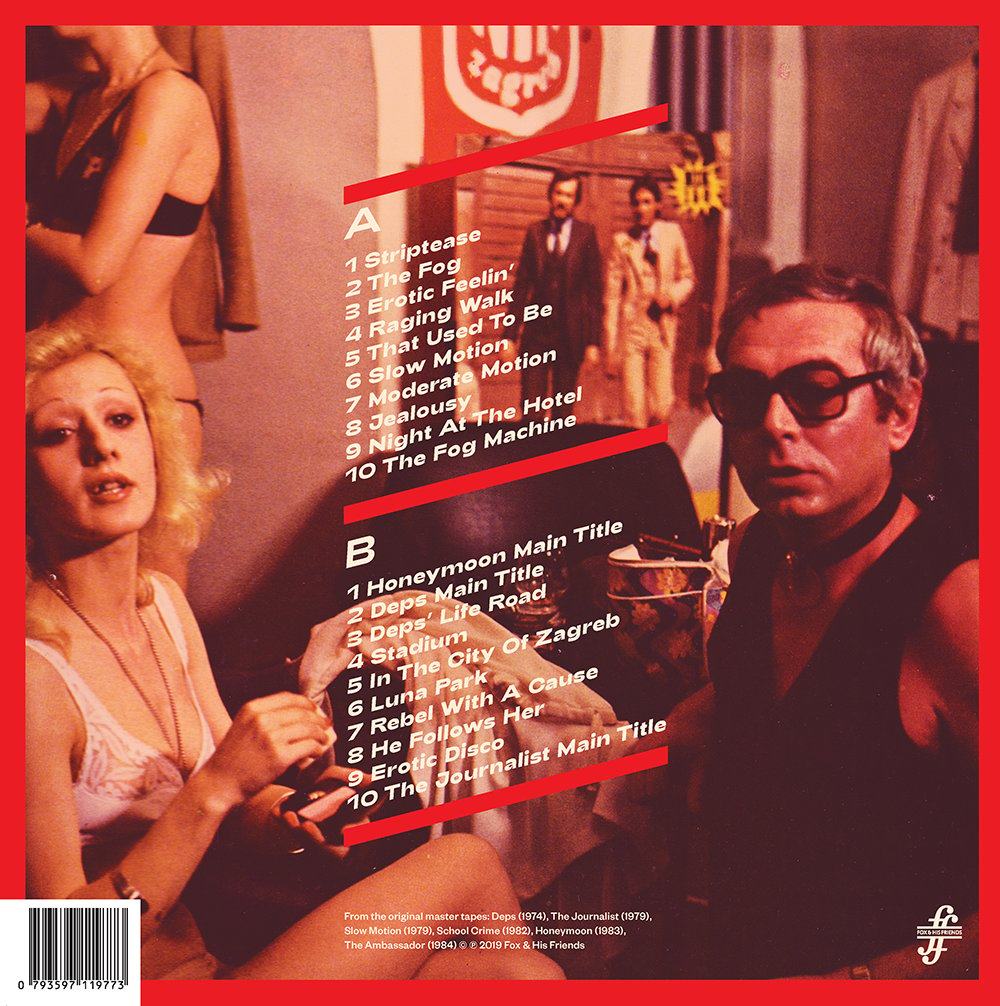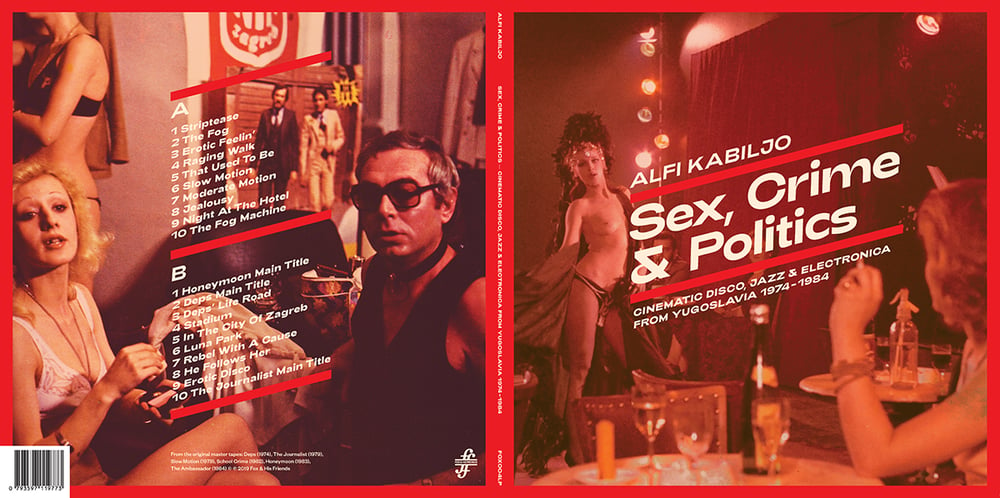 ALFI KABILJO: SEX, CRIME & POLITICS - Cinematic Disco, Jazz & Electronica from Yugoslavia 1974-1984 (Limited Edition) (Gatefold LP) (FOX004LP)
PREORDER. SHIPPING DATE: DECEMBER 23rd, 2019.
Six vintage cinema classics scored by famous BAFTA nominated Croatian composer Alfi Kabiljo are compiled here for the first time in one album. Films include first feature soft-porn in Yugoslavia (Honeymoon / Medeni mjesec), genre gems like Journalist and Deps and many more. A subtle musical drive into 70's Zagreb night clubs, smokey bars and shady characters from the other side of law. Journalists, gangsters, politicians, diplomats and ladies of the night make this disco, funk and jazz themes well-suited socialist version of Bernard Hermann's Taxi Driver.
All tracks are transferred from the original master tapes, selected and programmed by Fox & His Friends owners Leri Ahel and Zeljko Luketic.
Full color, gatefold LP is out December 23, 2019.
Featuring music from the films:
DEPS (Deps, 1974) Directed by Antun Vrdoljak Starring Bekim Fehmiu, Milena Dravić, Fabijan Šovagović & Relja Bašić
NOVINAR (The Journalist, 1979) Directed by Fadil Hadžić Starring Rade Šerbedžija, Fabijan Šovagović, Stevo Žigon & Milena Zupančič
USPORENO KRETANJE (Slow Motion, 1979) Directed by Vanča Kljaković Starring Relja Bašić, Boris Buzančić, Lela Margitić & Mia Oremović
ZLOČIN U ŠKOLI (School Crime, 1982) Directed by Branko Ivanda Starring Zlatko Vitez, Miodrag Krivokapić, Zdenka Heršak & Žarko Potočnjak
MEDENI MJESEC (Honeymoon, 1983) Directed by Nikola Babić Starring Slobodan Milovanović, Biserka Ipša, Nada Abrus & Ksenija Prohaska
AMBASADOR (The Ambassador, 1984) Directed by Fadil Hadžić Starring Miodrag Radovanović, Elizabeta Kukić, Voja Brajović & Inge Appelt
At the time of the release of this record, Alfi Kabiljo will be celebrating his 84th birthday. One might think that this can be an occasion to slow down and reflect on the past, as many of his colleagues would do, but this certainly does not apply to versatile and busy Croatian composer. He is still working, writing music, conducting, arranging and above all enjoying his craft and life. His opus involves music for over 50 films, 100 TV episodes, numerous commercials, theatre productions and easy listening pop music. His nickname in Yugoslavia, now in Croatia, is still "The King Of Musical" with "Jalta, Jalta" (1971) being the record breaking success all over the world. Helping the careers of pop stars like Radojka Šverko, Tereza Kesovija, Ana Štefok and Vice Vukov, Alfi travelled, conducted and performed his music all over the world, from Japan to America.
Kabiljo's pioneering work with synthesizers led him to be a first composer in Yugoslavia to play with expensive Fairlight CMI machine in the 1980s and to have The National Philharmonic Orchestra in London available for recording sessions (Sky Bandits, BAFTA nomination). In this selection of mostly unreleased film scores, we focused on his love of classic disco beat, combined with funk, jazz and lush orchestrations, typical for the shady Zagreb nights, populated with unsolved crimes, worked up journalists and ladies of the 'oldest trade'. One of the films, Honeymoon, labelled first soft-porn in Yugoslavia, caused scandal and critical backlash, but Kabiljo never seemed to bother with provincial labels or morals. The sum of six different films compiled here somehow override its parts and make the continuous flow of one completely new and imaginary film called Sex, Crime & Politics.
Composed, Arranged and Conducted by Alfi Kabiljo. Recorded by Petko Kantardžijev at Studio Jadran Film, Zagreb. Musicians: Branko Košir (String Section Leader), Marijan Domić (Trumpet), Mladen Sedak-Benčić (Flute, Alto Flute, Alto Saxophone, Tenor Saxophone, Soprano Saxophone), Vedran Božić (Electric Guitar), Mladen Baraković (Bass Guitar), Duško Mandić (Guitar), Svemir Opara (Guitar), Salih Sadiković (Drums), Boris Benini (Percussion), Srećko Zubak (Hammond Organ), Jaroslav Kubiček (Synthesizer), Darko Lukač (Synthesizer), Zlatko Tanodi (Synthesizer), Alfi Kabiljo (Synthesizer, Piano), Robert Schwabenitz (Transcription).
Executive Producers, Creative Direction and A&R: Leri Ahel & Željko Luketić Compiled by Leri Ahel & Željko Luketić Research: Željko Luketić Liner Notes: Željko Luketić Supervised by Leri Ahel Design: Andro Giunio Audio Digitization: Petar Pečur Mastering: Miroslav Piškulić Photographs Courtesy of Jadran Film. Rights Society: HDS/BIEM Manufactured by Optimal Media ©℗ 2019 Fox & His Friends
TRACKLIST
Side A
01 Striptease (Theme from The Ambassador) / Striptease (Tema iz filma Ambasador) (3:36)
02 The Fog (Theme from School Crime) / Magla (Tema iz filma Zločin u školi) (2:00)
03 Erotic Feelin' (Theme from Slow Motion) / Erotic Feelin' (Tema iz filma Usporeno kretanje) (1:55)
04 Raging Walk (Theme from The Journalist) / Bijesni hod (Tema iz filma Novinar) (0:50)
05 That Used To Be (Theme from The Journalist) / To je bilo nekad (Tema iz filma Novinar) (0:56)
06 Slow Motion (Theme from Slow Motion) / Usporeno kretanje (Tema iz filma Usporeno kretanje) (2:27)
07 Moderate Motion (Theme from Slow Motion) / Polagano kretanje (Tema iz filma Usporeno kretanje) (3:17)
08 Jealousy (Theme from The Journalist) / Ljubomora (Tema iz filma Novinar) (0:45)
09 Night At The Hotel (Theme from Slow Motion) / Noć u hotelu (Tema iz filma Usporeno kretanje) (1:10)
10 The Fog Machine (Theme from School Crime) / Stroj za maglu (Tema iz filma Zločin u školi) (2:50)
Side B
01 Honeymoon Main Title (Synth Version) / Medeni mjesec špica (Synth verzija) (4:18)
02 Deps Main Title / Deps špica (1:50)
03 Deps' Life Road (Theme from Deps) / Depsov životni put (Tema iz filma Deps) (1:50)
04 Stadium (Theme from Slow Motion) / Stadion (Tema iz filma Usporeno kretanje) (1:05)
05 In The City Of Zagreb (Theme from Slow Motion) / U gradu Zagrebu (Tema iz filma Usporeno kretanje) (2:15)
06 Luna Park (Theme from The Journalist) / Lunapark (Tema iz filma Novinar) (1:36)
07 Rebel With A Cause (Theme from The Journalist) / Buntovnik s razlogom (Tema iz filma Novinar) (2:10)
08 He Follows Her (Theme from Slow Motion) / On prati nju (Tema iz filma Usporeno kretanje) (1:16)
09 Erotic Disco (Theme from Slow Motion) / Erotic Disco (Tema iz filma Usporeno kretanje) (2:12)
10 The Journalist Main Title / Novinar špica (2:35)
©℗ 2019 Fox & His Friends