THE MASTER SCRATCH BAND - THE BREAKWAR (REISSUE WITH BONUS TRACKS)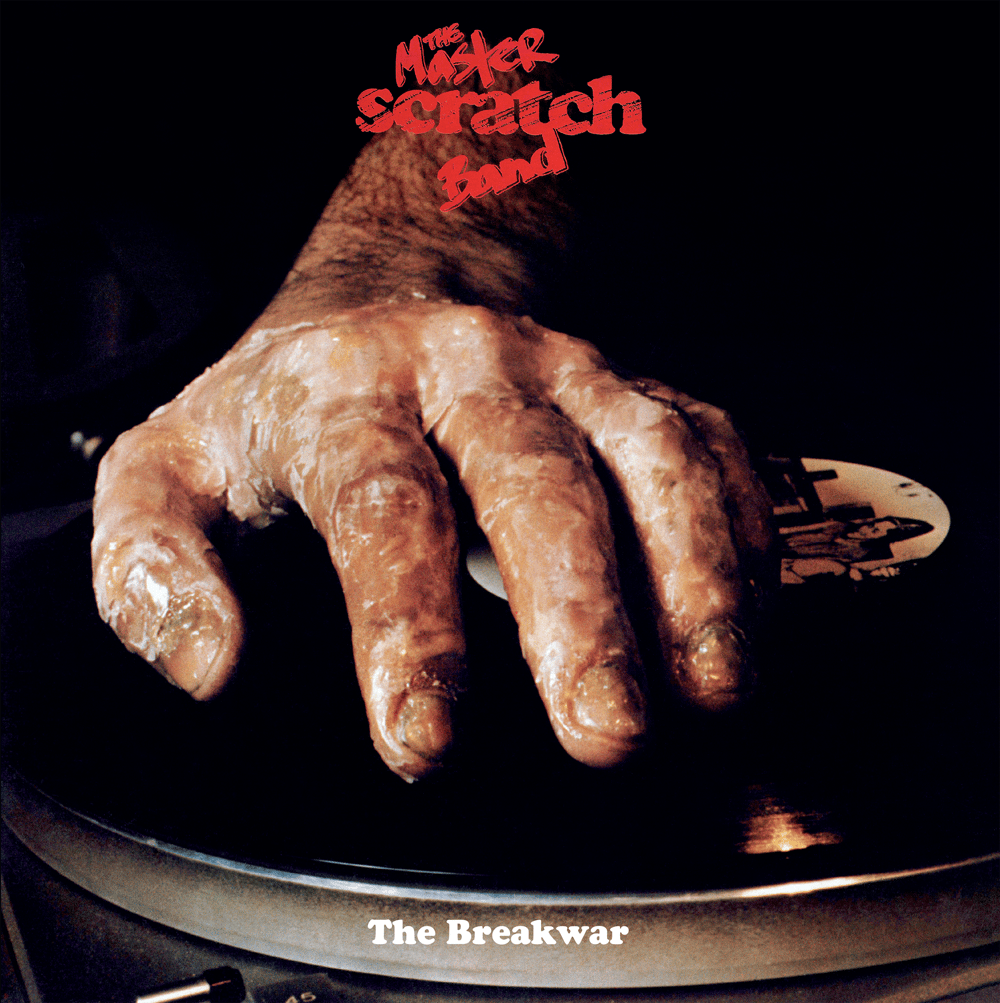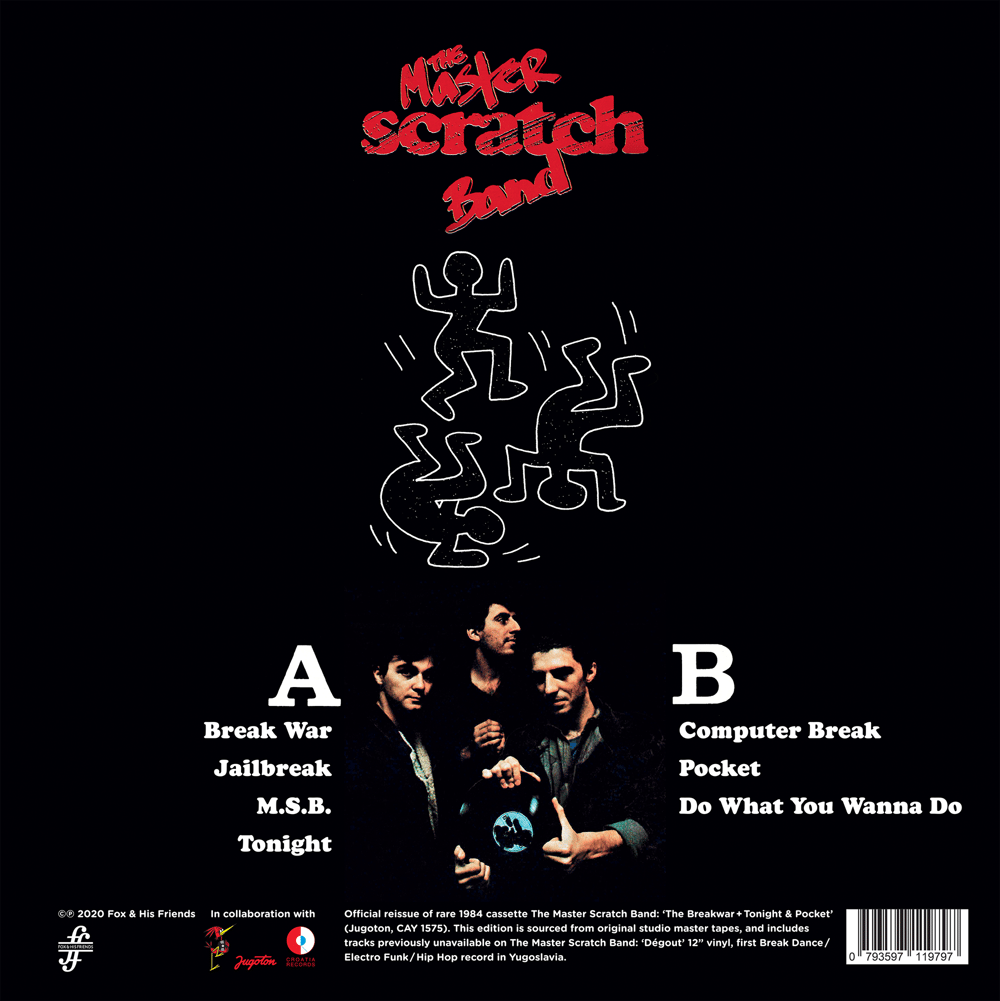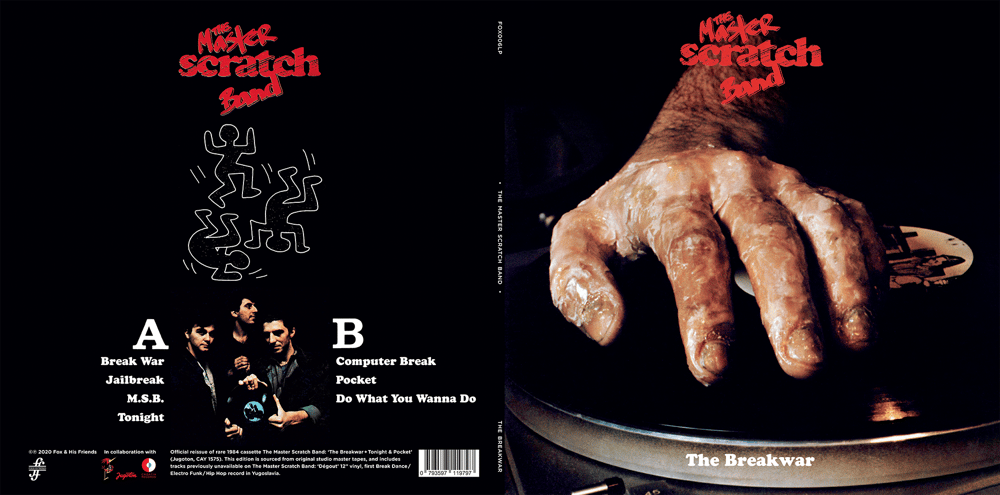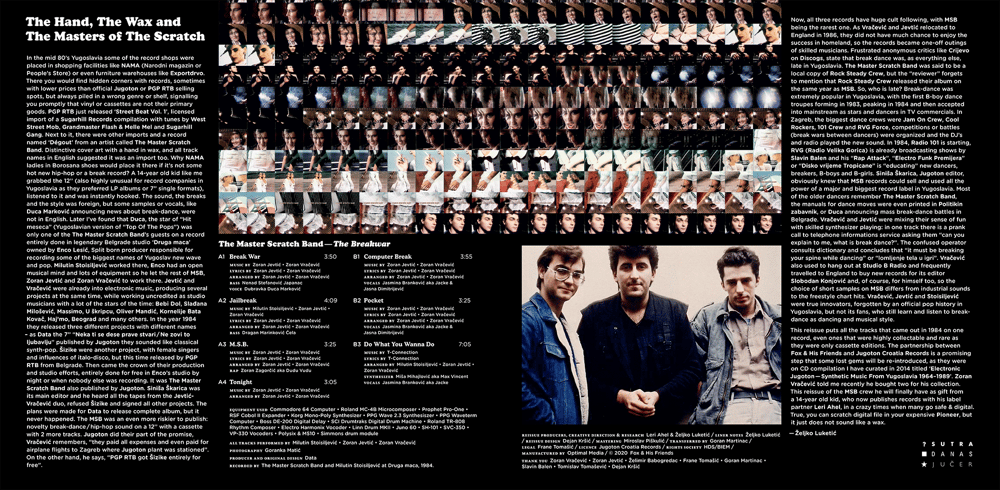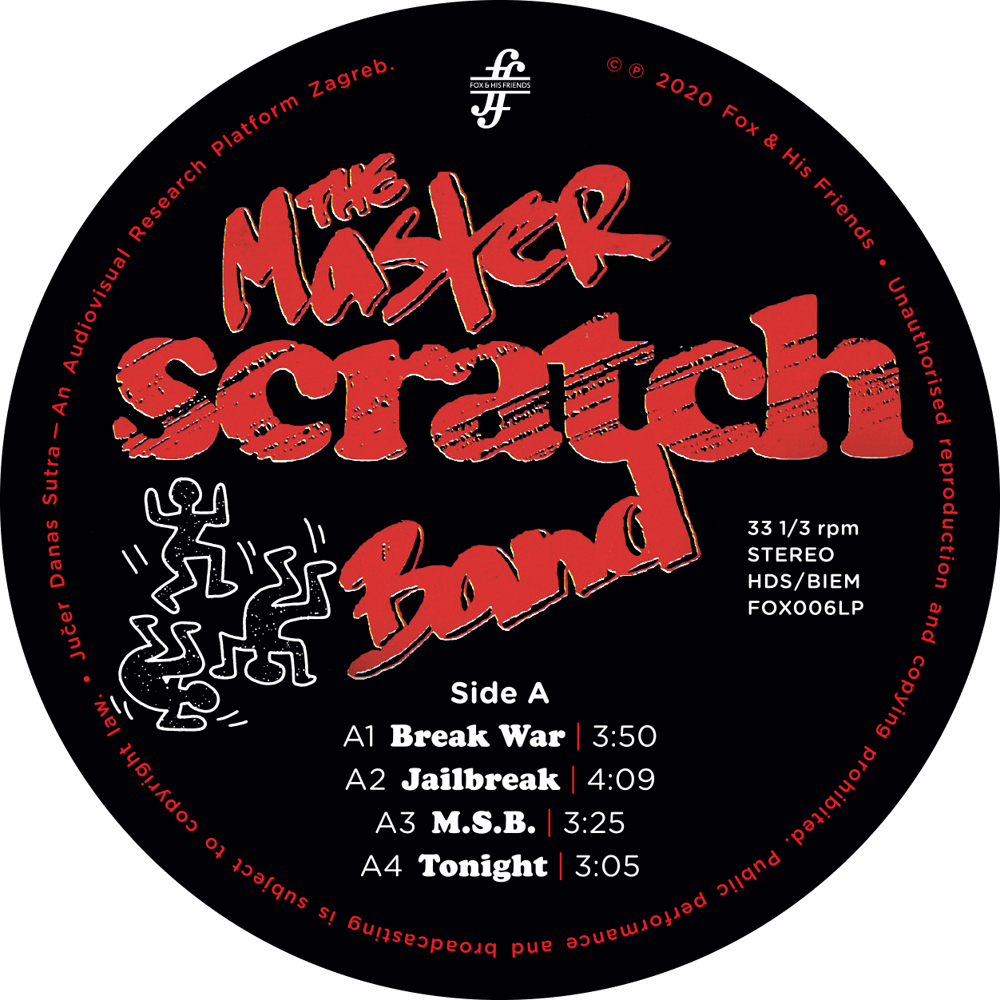 THE MASTER SCRATCH BAND
THE BREAKWAR LP
1984 CASSETTE REISSUE WITH BONUS TRACKS

Limited edition, gatefold LP, extensive liner notes and bonus tracks
Please note that this is PRE-ORDER. Estimated release date is November 15th 2020. All pre-orders will be shipped then. Allow longer arrival dates due to a Covid crisis and postal rules which may be different from country to country.
The Master Scratch Band was first break-dance / hip-hop / electro funk band in Yugoslavia released and signed by major label in 1984. The band members were Zoran Vračević, Zoran Jevtić and Milutin Stoisiljević, previously known as Data (Goran Marinković, Zoran Jevtić, Zoran Vračević) and Šizike (Goran Marinković, Jasmina Branković, Jasna Dimitrijević, Ljiljana Dimitrijević, Milutin Stoisiljević, Zoran Jevtić, Zoran Vračević).
Jugoton, the biggest label in Yugoslavia, published Data 7'' and MSB's 'Dégout' 12'' with limited edition cassette containing two bonus tracks. Impossible to find on the collectors market, Fox & His Friends team in collaboration with Jugoton / Croatia Records is releasing a full, complete version of the rare "The Breakwar" tape, with tracks "Tonight" and "Pocket" never pressed on vinyl. All tracks are sourced from original studio tapes. With the kind help of Zoran Vračević on credit list and liner notes, this is now the ultimate Master Scratch Band album, released originally in a year when break-dance was in the peak of its popularity in Yugoslavia.
While Data was synthpop, Šizike mellow synth-disco recorded in private studio, this release is pure breaks and hip-hop electro, done old-school way in one of the best studios in Yugoslavia, Enco Lesić's Druga maca in Belgrade. MSB used impressive electronic gear and were helped by huge list of famous musicians and guests: Dubravka Duca Marković from hit-show 'Hit meseca' (Yugoslavian Top Of The Pops); Japanac on bass, Max Vincent from Max & Intro on synths, Dudu Vudu from Du-Du-A, Goranka Matić as photographer and many more. MSB sampling technique and choices are unique: from obscure industrial records to freestyle; from found-sounds to cut-up breaks and even real prank-calls.
This is document of time that still sounds fresh and needs to find it's new, young audience of hip-hop history researchers, break-dancers, b-boys, b-girls and DJ's. When you know that it's produced in 1984 Yugoslavia, far away, but actually, so close to its USA brothers and sisters, it's even more mind-boggling. Thanks to Fox & His Friends and Jugoton CR collaboration, this gem is waiting for your freezes, footwork and electric boogie moves.
-----
THE TRACKS
a1 Break War
a2 Jailbreak
a3 M.S.B.
a4 Tonight
b1 Computer Break
b2 Pocket
b3 Do What You Wanna Do
-----
Equipment used: Commodore 64 Computer, Roland MC-4B Microcomposer, Prophet Pro-One, RSF Cobol II Expander, Korg Mono-Poly Synthesizer, PPG Wave 2.3 Synthesiszer, PPG Waveterm Computer, Boss DE-200 Digital Delay, Drumtraks Digital Drum Machine, Roland TR-808 RH. Composer, Electro Harmonix Vocoder, Linn Drum MKII, Juno 60, SH-101, SVC-350, VP-330 Vocoders, Polysix & MS10, Simmons drum module
------
Reissue Producers, Creative Direction and Research: Leri Ahel & Željko Luketić Liner Notes: Željko Luketić Design: Dejan Kršić Mastering: Miroslav Piškulić Transferred by: Goran Martinac Legal: Frane Tomašić Licence: Jugoton Croatia Records Rights Society: HDS/BIEM ©℗ 2020 Fox & His Friends
Thank you: Zoran Vračević, Želimir Babogredac, Frane Tomašić, Goran Martinac, Slavin Balen, Tomislav Tomašević, Dejan Kršić.
If there are other items you wish to receive right away please place two separate orders, one for the PRE-ORDER item and one for the others.