Tomislav Simovic - Visitors From The Galaxy LP (Original Motion Picture Soundtrack) + POSTER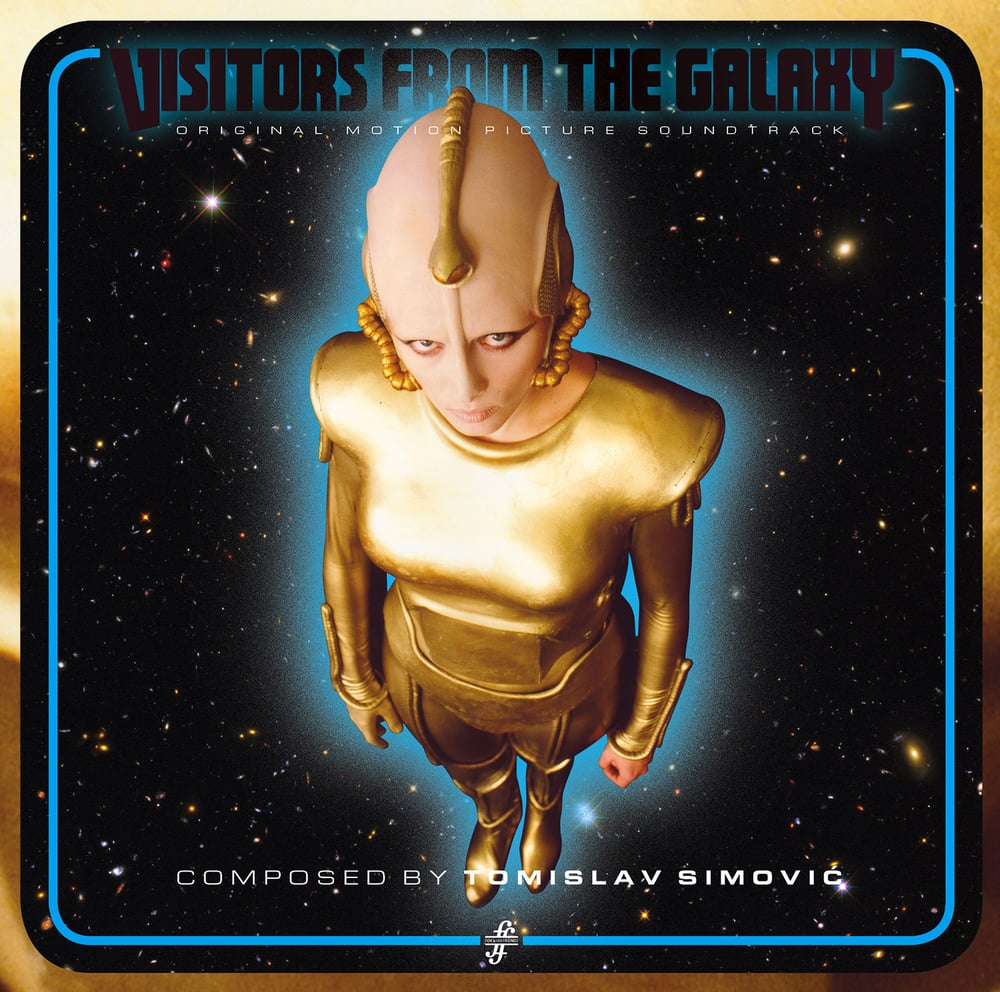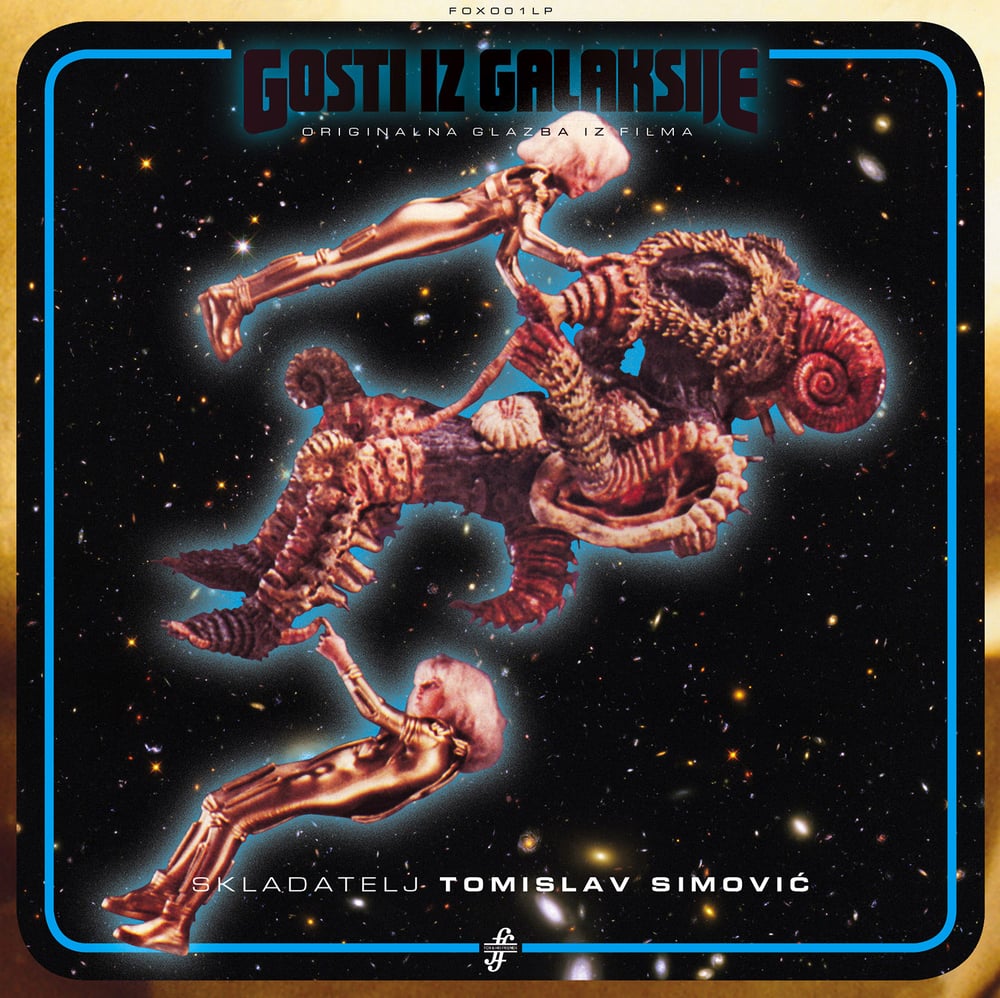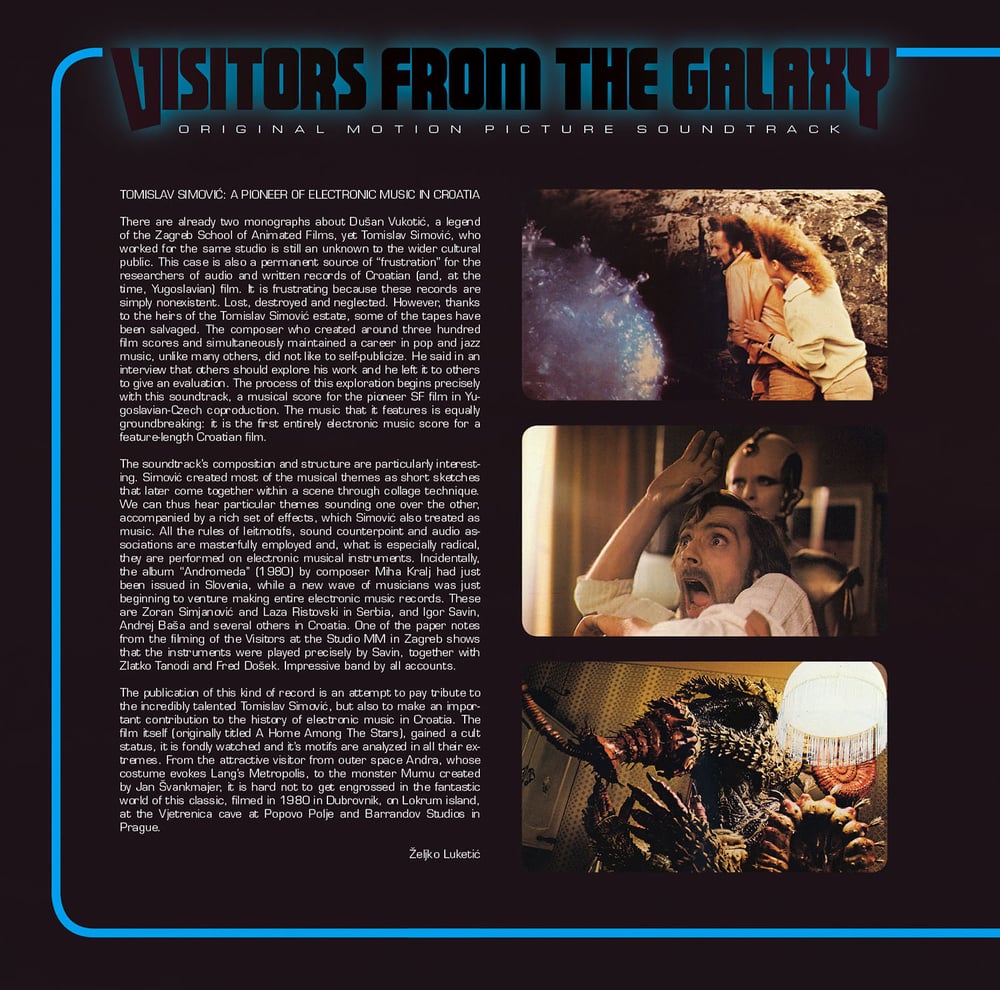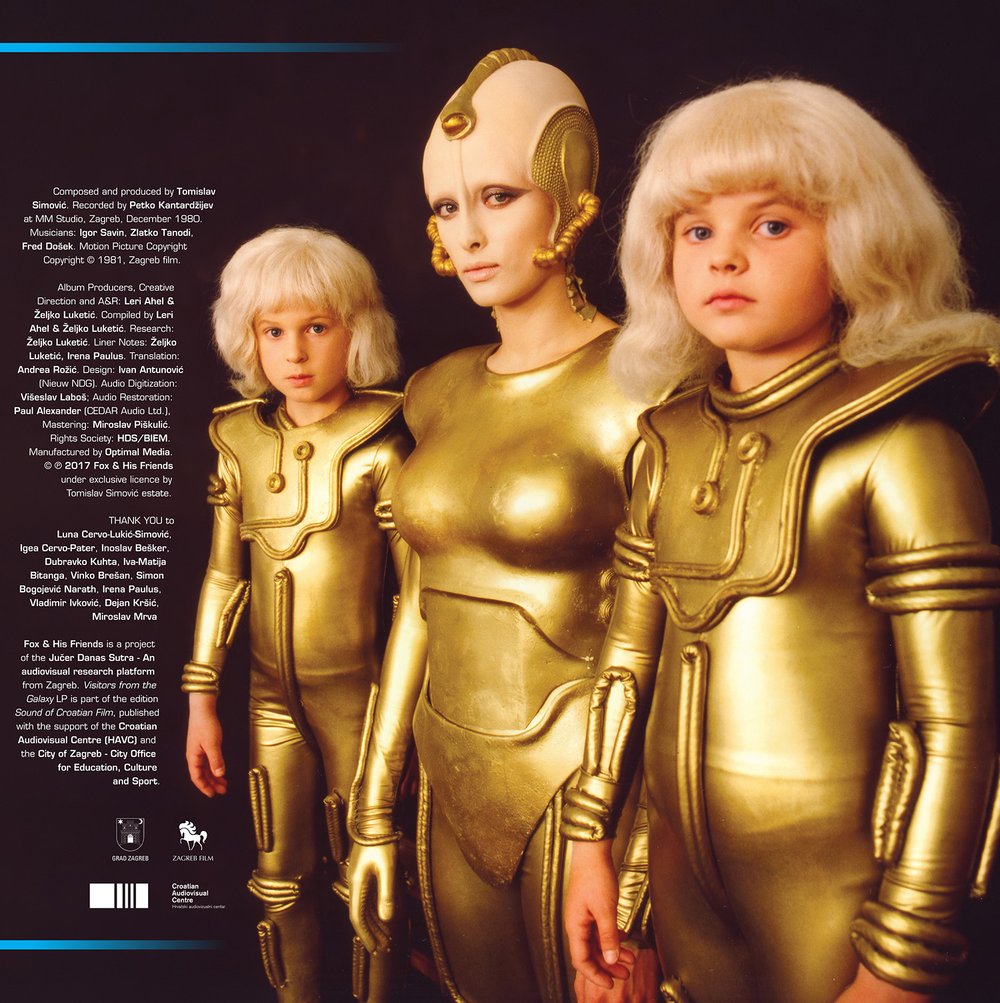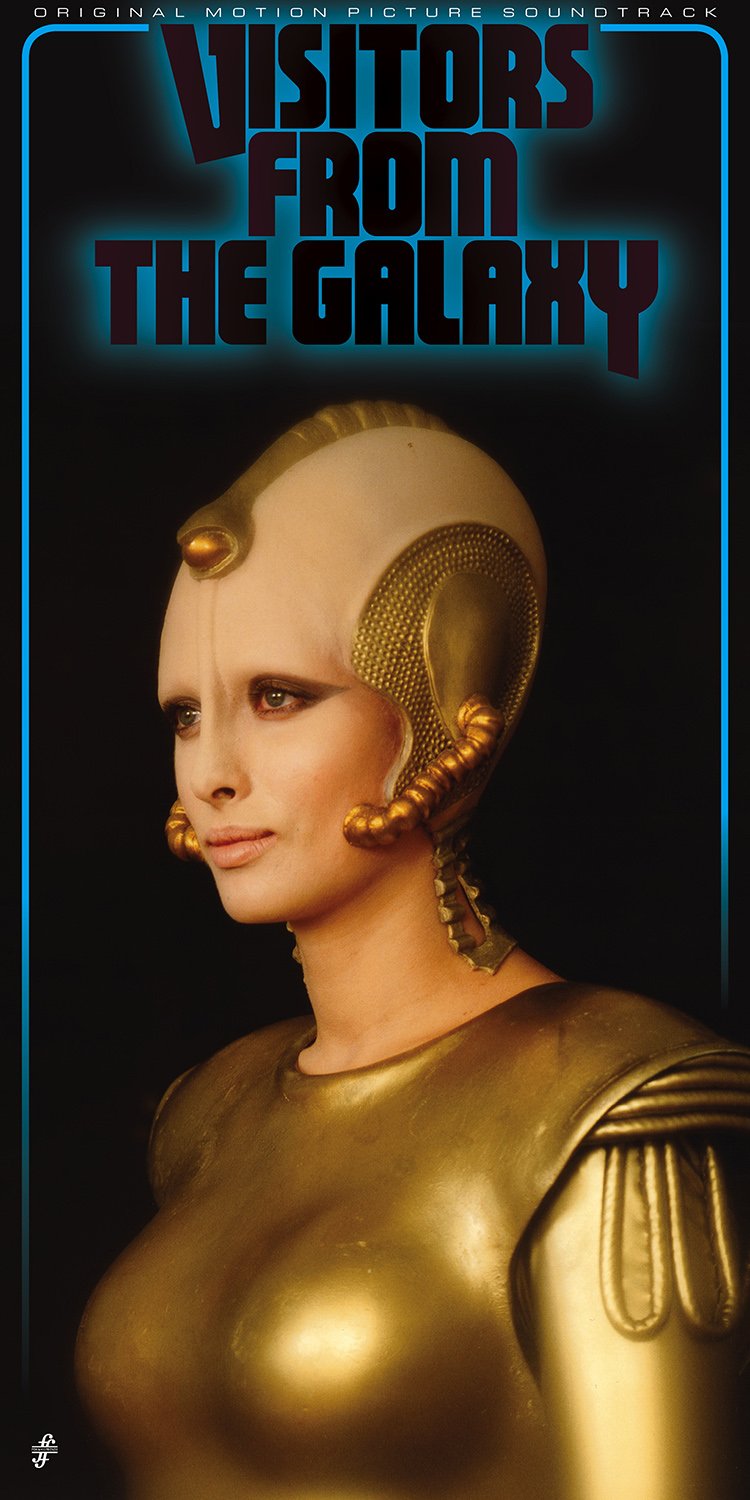 FOX001LP / Socialist science-fiction classic Visitors from the Galaxy aka Gosti iz galaksije / Soundtrack by Tomislav Simovic / First ever electronic score from ex-Yugoslavia / From original master tapes
Socialist science-fiction classic Visitors from the Galaxy, directed by the only Oscar winning director from ex-Yugoslavia Dusan Vukotic in 1981, will have soundtrack premiere on vinyl 36 years after cinema release. The ground-breaking early electronica work by Croatian composer Tomislav Simovic was considered lost and was never before published. Fox & His Friends label team found the original master reels, restored it at the famous Cedar Audio studio in Cambridge and will release it as a special edition 180g audiophile LP in gatefold cover with hype sticker, including rare photographs, insert with liner notes by Zeljko Luketic and Irena Paulus, and colour poster with the galactic heroine Andra.
Gosti iz galaksije aka Visitors from the Galaxy was a 1981 East-Bloc science-fiction extravaganza, first and only of it's kind in Yugoslavia. It was a success at specialist fantasy film festivals (Madrid, Trieste, Brussels) but confused a lot of home audiences with the specific mixture of bizarre characters, including man with breasts, nudists welcoming extraterrestrials, beautiful alien heroine with her children behaving improperly and a huge, violent monster on killing spree.
The creature design, made of plants and artificial human parts was the work of famous Czech filmmaker Jan Švankmajer. The film was a coproduction with Czechoslovakia and was partially shot in Barrandov Studios, with exteriors done in Game of Thrones favoured location Dubrovnik and it's hidden caves and surroundings. It was distributed in Czechoslovakia, West Germany, Poland, Spain, Italy and Cuba.
The late director Dusan Vukotic (1927-1998) remained until now the only Oscar winner from ex-Yugoslavia for his celebrated and influential 1962 animated short Ersatz. It pushed the phenomena of Zagreb School of Animation internationally, gathering praise for unique anti-Disney style full of abstraction, reduced movement and themes dealing with grown-up, darker subjects.
The main composer for these films was Tomislav Simovic (1931-2014), Zagreb born musician with 300+ film scores in his biography. He was also a well-known jazz composer in his Tomislav Simovic Orchestra. Director Vukotic picked him for the Visitors from the Galaxy and he delivered amazing, completely electronic work which was revolutionary in 1980s Yugoslavia. As the synthesizers were expensive and considered a second rate replacement for acoustic instruments, not many musicians dared to experiment with it.
Visitors from the Galaxy now stands as the first ever feature film electronic score in Yugoslavia and Tomislav Simovic is remembered as one of the most prominent and highly awarded among Croatian composers, but so far none of his film pieces was released. He is also the author of the theme for animated series Professor Balthazar, probably the most famous piece of cartoon music in ex Yugoslavia. He was one of the collaborators of the New York music magazine EAR for which he wrote essays for the column Composer and Moving Image.
The Visitors from the Galaxy soundtrack LP selects the most memorable cues from the feature film. It was researched and programmed by Fox & His Friends label owners, Leri Ahel and Zeljko Luketic. Ahel is a radio professional and a DJ from Rijeka, where he produces his widely syndicated Mutant Disco Radio Show. Journalist and film and music critic Luketic comes from Zagreb. He was the artistic director of Croatian Film Days festival, screenwriter for the Croatian National Television and is finishing his PhD in literature, filmology and performing arts at Zagreb University. He compiled and co-authored Electronic Jugoton – Synthetic Music From Yugoslavia 1964-1989 and Ex Yu Electronica III anthology compilations and curated several museum exhibitions (Borghesia: We Don't Believe You and The Other Side of Saturday Night Fever: Socialist Disco Culture).
Fox & His Friends, as owners Ahel and Luketic say, will release music without genre boundaries, discover rare, obscure and forgotten stuff, the sounds that have timeless value, both contemporary and vintage.
VISITORS FROM THE GALAXY - RELEASE INFO
Artist: Tomislav Simovic
Title: Visitors from the Galaxy
Label: Fox & His Friends
Cat no: FOX001LP
Format: Vinyl
Distribution: Clone NL
File under: Electronic, Soundtrack
Release date: March 01, 2017
Circulation: Limited to 500 copies
Tracklisting:
A1 Touch Me (Love Theme) 01:41
A2 Robert, Coffee is on the Table 03:03
A3 Visitors from the Galaxy (Main Theme I & II) 04:15
A4 It's Time to Meet 01:50
A5 Anatomy Class (Mumu) 06:19
A6 Earth's Gravity Wears You Out 01:05
B1 Are We Ready for this Encounter? 03:07
B2 Andra, Targo and Ulu 04:19
B3 Biba Changed Shape 04:52
B4 In Impossible Situations We Turn Back Time 03:40
B5 Mumu Says Hi (End Credits) 00:50